Cacao Doctor Luchie Suguitan held Chocolate 101: An Introduction to Chocolate Tasting, attended by the Farmers of OFW para sa Magsasaka and representatives of the Department of Agriculture (DA) and the Department of Trade & Industries (DTI) of the CARAGA Regional, Provincial and Local Offices, held last 15th of July 2016.
n
n
Cacao Doctor also explained how one's five senses are engaged when tasting chocolate (and process in this order): Sight, Smell, Sound, Feel and Taste!
https://www.youtube.com/watch?v=oNOFuUoAEAg
n
That morning, the attendees experienced and discovered the different flavors of chocolate in the following forms:
n
n
• Roasted cacao nibs (from Peru)
n
• 100% pure cacao chocolate (from Venezuela)
n
• Fine Dark chocolate (cacao content of no less than 65%)
n
n
Attendees of the chocolate tasting sampled on high percentage dark chocolates to give it the best chance to compare and consider the flavors of chocolates from different cacao producing regions – South America (Hachez Cacao Arriba, 77% Ecuador), Central America (Michel Cluizel, 66% Mexico), Africa (Madecasse, 70% Madagascar), Carribean (The Grenada Chocolate Factory, 71% Grenada) and Asia (Original Beans, 68% Papua Kerafat).
n
n
They also sampled chocolate producing countries, countries that do not produce cacao beans, but process the cacao beans into fine chocolates were also sampled. Chocolates by Domori of Italy, Guittard of USA and Callebaut of Belgium.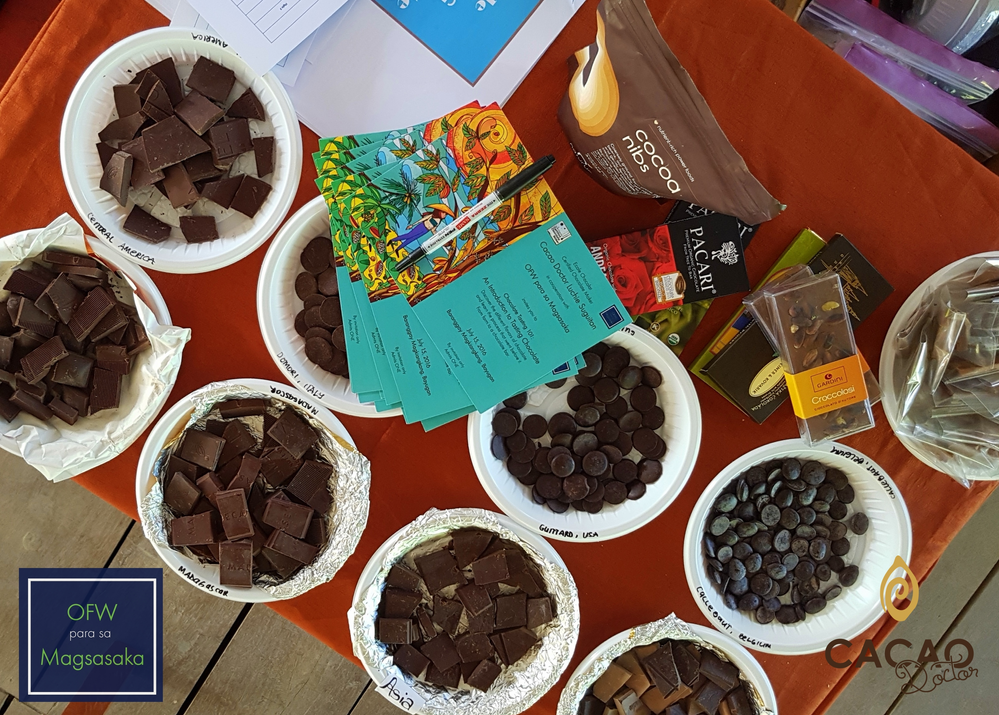 As a reward for everyone's participation, the chocolate tasting was capped off with a sweet taste of:
n
n
• Milk chocolate from Switzerland (25% cacao content);
n
• Flavored chocolate bars from Pacari – chocolates infused with Andean Rose and Andean Lemon; and
n
• Chocolate bars with inclusions from Gardini
n
n
It is imperative that our OPM Farmers as well as our friends in DA and DTI get to experience, and understand the different tastes of chocolates that are sold world-wide – what makes a particular chocolate great, and how important the farmer's attitude and treatment towards cacao's pre-harvest and post-harvest processes.
n
n
The first step in making great chocolates begins not when a farmer sows the cacao seed, it begins when you arm the farmers with education and awareness of what the end goal they should aim for.
n
n
Say Cacao!
n
n
n
#Chocolate101 #chocolatetasting #CacaoDoctor #chocolate #darkchocolate #OFWparasaMagsasaka