"You must not let anyone define your limits because of where you come from. Your only limit is your soul." – Gusteau, Ratatouille
n
n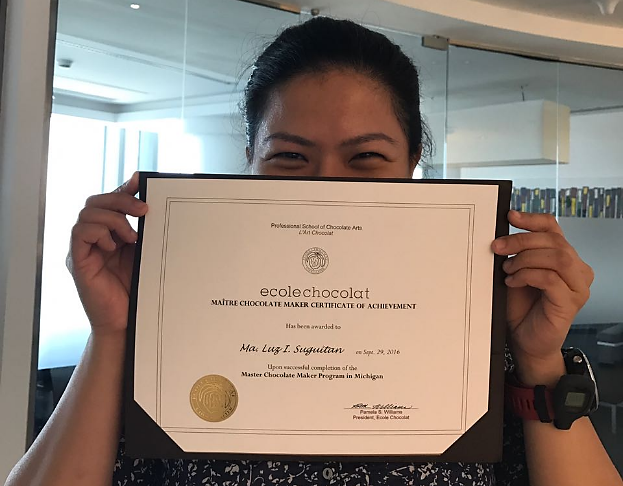 n
I come from a middle class cooking family in Manila, Philippines before I went to Dubai with my sister Iman some thirteen years ago. I rode my first international airplane and asked the international cabin crew "miss, can we have extra rice?"
n
nnMy mother was a cook. My mother's mother was a cook. My summer memories always involved packing rice and food for delivery to offices in Makati. If not packing, we were busing the dishes, washing the pots and pans. If not that then we were standing in the cafeteria as food server in the canteen my mother was a concessionaire of. So it just seemed natural to choose the college degree of Hotel and Restaurant Management (HRM) after high school. It seemed safe. The cultural norm in the Philippines is to have as minimal risk in life as possible, that's my opinion.
n
n
My world was small before I left the Philippines. Television was all about tele-serye of drama and being "api" (oppressed); protagonists' success mostly come from luck. Providence. 3-day Midnight Mall Wide sales were the highlight of the month. Two-hour traffic going home was acceptable. It was only my super-strict mother, whose constant tirade that we needed to have better lives, who forced me and my siblings to leave drama where it should be – just in television. On Saturdays we'd wake up to the sound of banging pots and pans and Mama's shouting that God's graces were all distributed and none had been left for us because we were still asleep. She pushed us to leave Manila in 2001. Go to Dubai and be an OFW.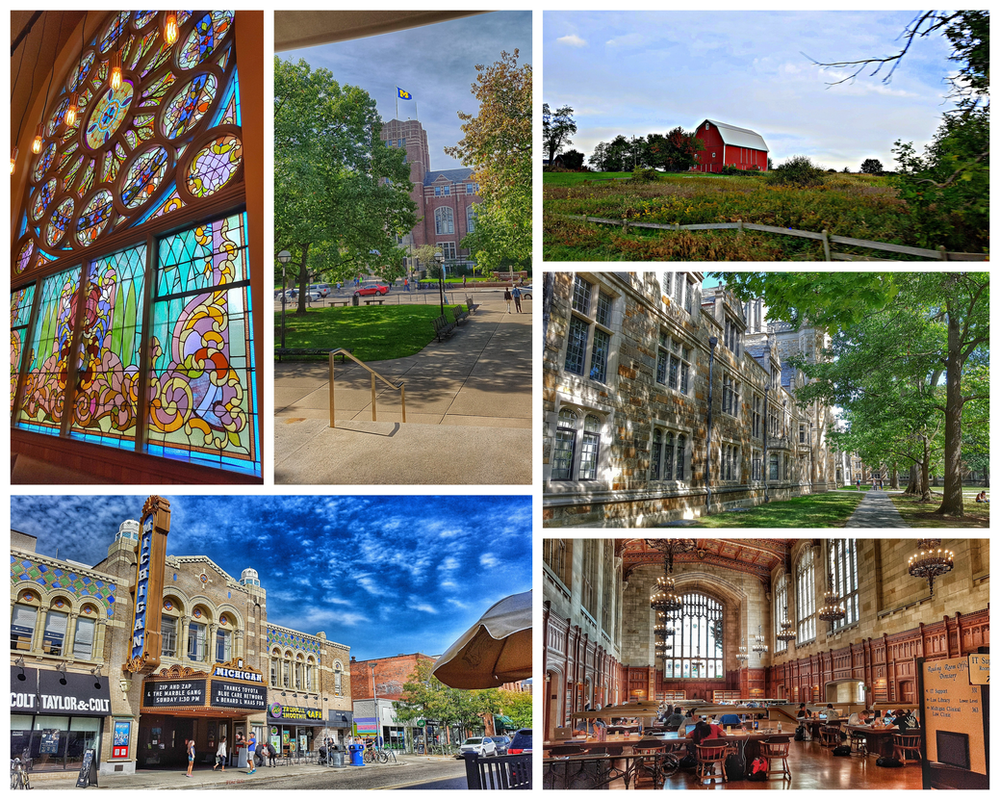 For the last decade I have been working in a multinational consultancy firm focused on digital technology. They pay well and this allowed me to experience a much bigger world – to travel, to meet new people, but most of all to aim higher and relax. In all these time, I never forgot the kitchen. I baked when I can and my sister and I never stopped cooking even in Dubai. Orders of my chocolate cake delighted my heart, until I realized sugar and carbs were not healthy. Our friends in Dubai were always surprised how our small apartment can hold so much cooking and baking utensils. My mother's constant tirade that being an employer is better than being employed lay in my subconscious. My sister set up her own business when she was thirty-three and each day I long for the day when my passion for chocolates and baking will be what will pay my bills. A huge dream needs huge preparation. I invite you to journey with me in this preparation.
n
n
Last year after learning cacao-farming, I took the next step and studied chocolate-making in a professional setting. I had a choice between Ecole Chocolat's Master Chocolatier Class in Switzerland and the Chocolate Making Master Program in Michigan, U.S.A. I decided I wanted not just to melt couverture and make works of art, as what a CHOCOLATIER does. I wanted to understand and create chocolates – to have a role in defining its ingredients and fine flavor. I knew how to farm and harvest cacao beans. I wanted to learn now how to create a great beauty out of the beans. So I decided to be learn to become a CHOCOLATE-MAKER.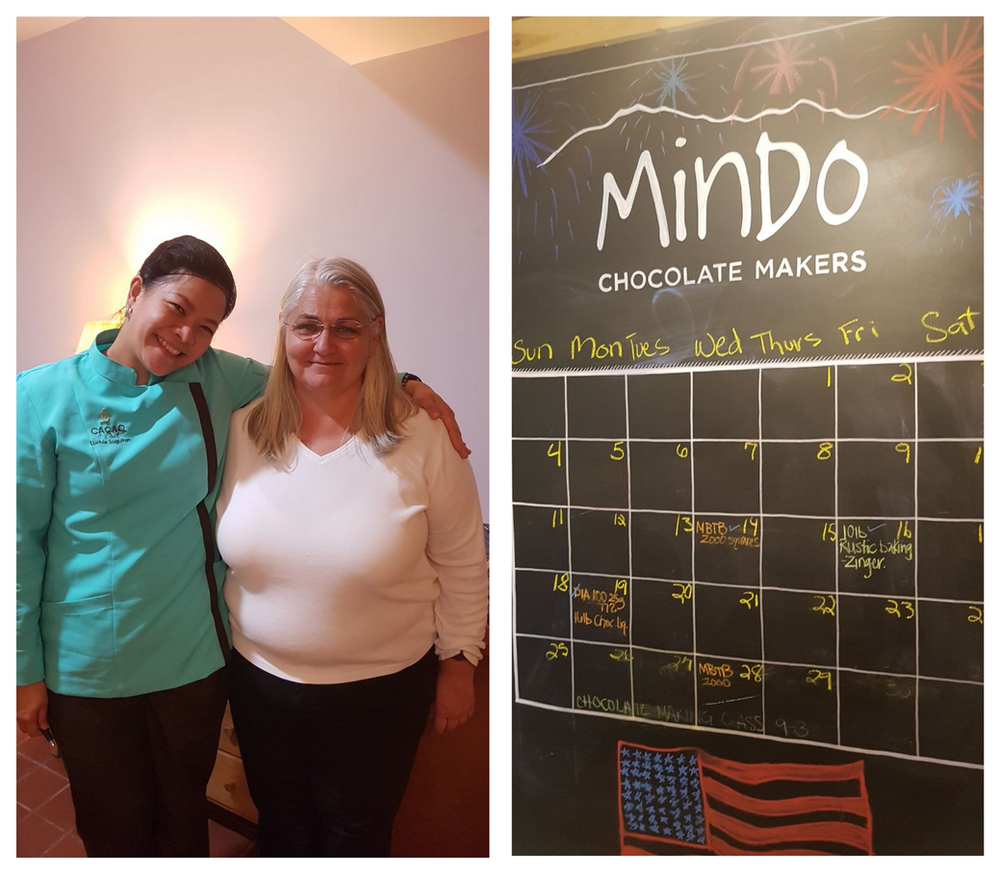 The company Mindo Chocolate Makers was the natural choice to be my mentors. Their shops and factory are in the USA but they work closely with farmers and cooperatives in Ecuador. This same core values of business made me like them instantaneously. If OFW para sa Magsasaka (OPM) wish to become a fine flavor cacao producer of the Philippines, I needed to learn more than chocolate-making skills, I had to learn skills in fermentation and drying.
n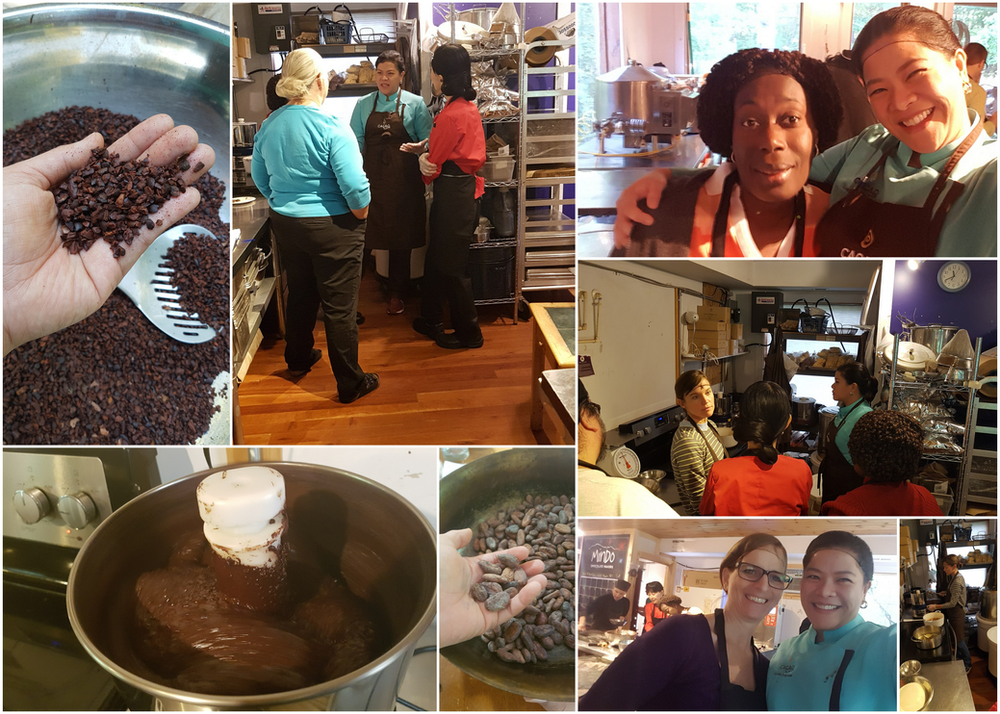 What people don't know about Michigan, is that on the other side of that state that does not produce automobiles, lies a chocolate factory in the middle of 40 acre woods – Mindo Chocolate Factory! Barbara and Jose, husband and wife also owns a factory in Mindo, Ecuador, so they make chocolates from the country it was planted and they sell it there too.
n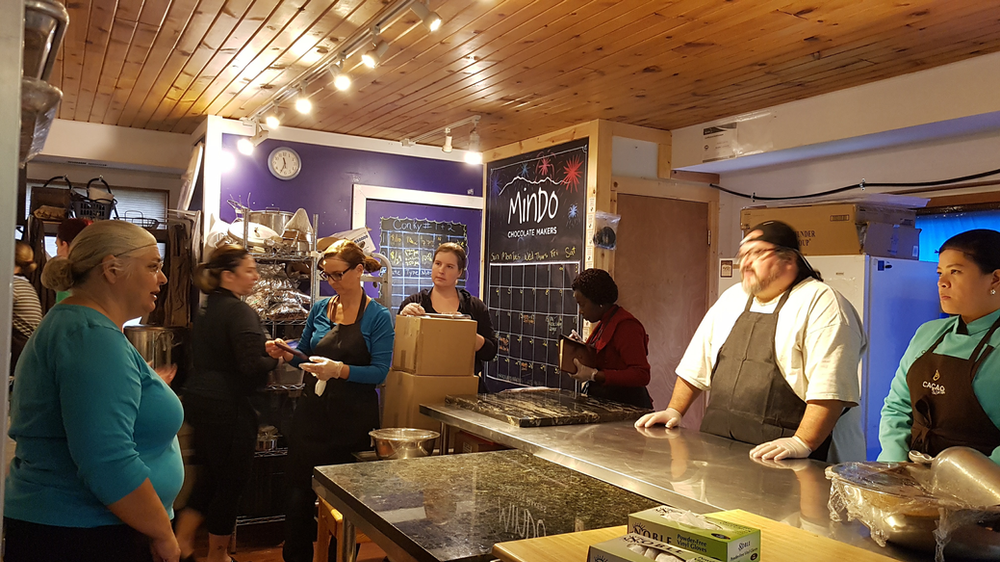 My classmates came from all over and I loved it! Lydie came from Ivory Coast, but now lives in Montreal, Canada; Shana from Japan, but trained in Paris as a Patisserie; Debbie and Kelly were American yogis based in Hawaii; Michelle, works in Guittard also based in Hawaii; Mike, an apprentice in making pastries, based in Santa Barbara California. Our instructor Barbara from Michigan is married to Jose, an Ecuadorian (not in pic), and of course, yours truly, Filipino Cacao Doctor, based in Dubai!
n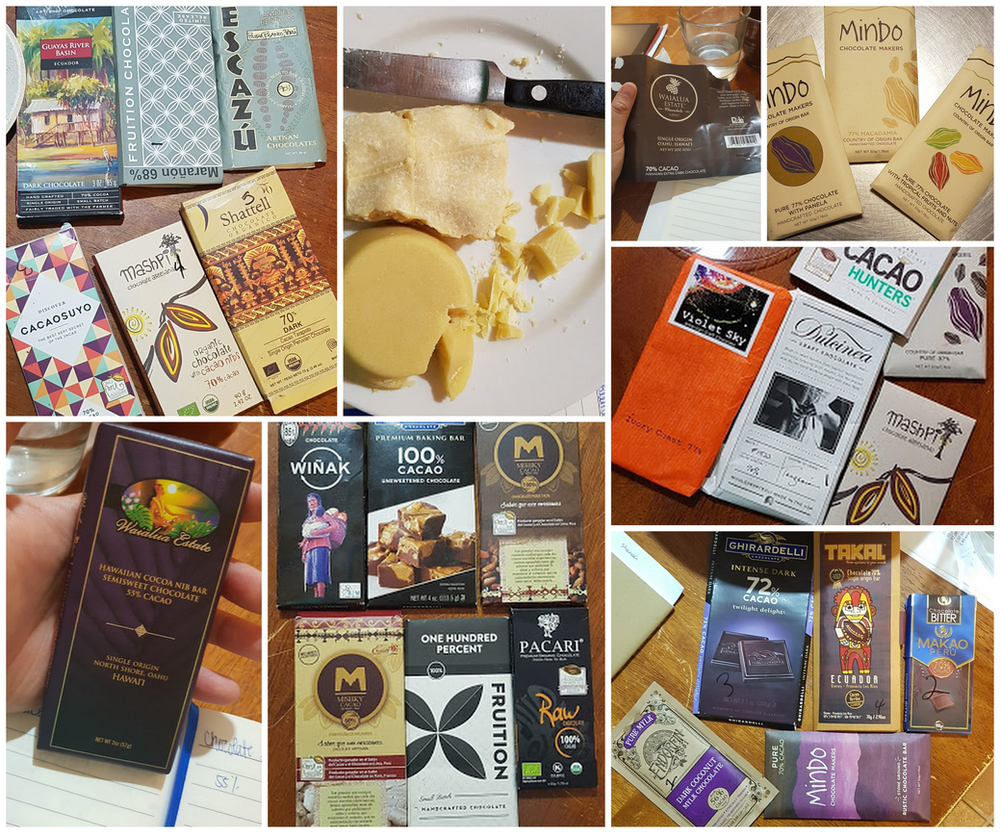 The daily chocolate tasting really helped me discover and enunciate the flavors that my palate goes through during the process. Because of the class' diversity, I noticed we had different and sometimes similar reactions to chocolates we tasted.
n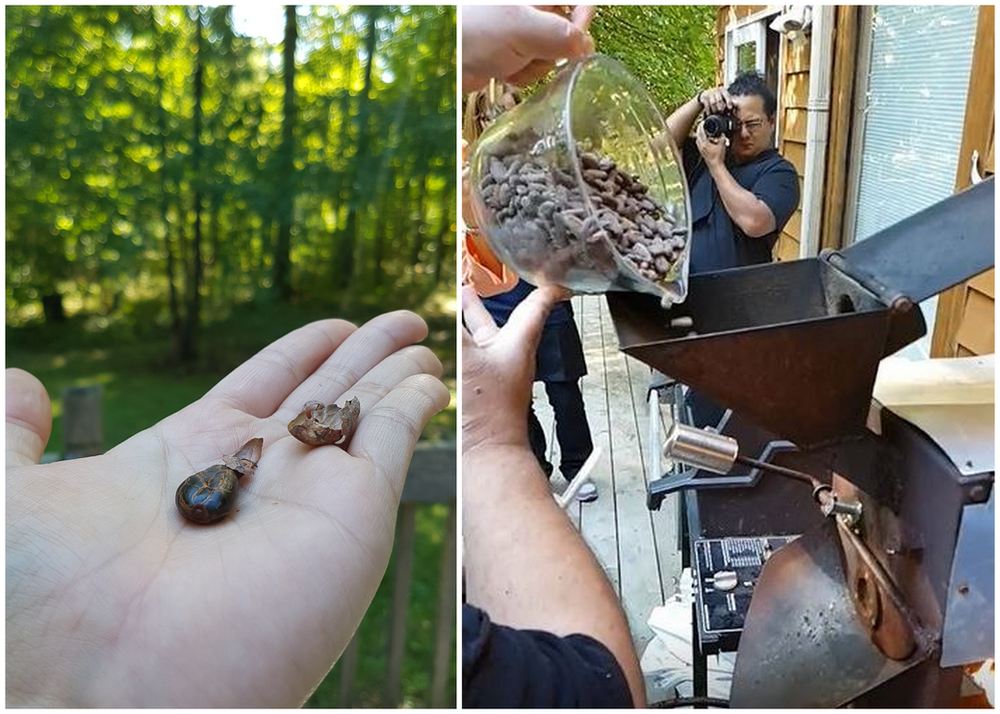 We did hands-on roasting, cracking cocoa beans and winnowing.n
n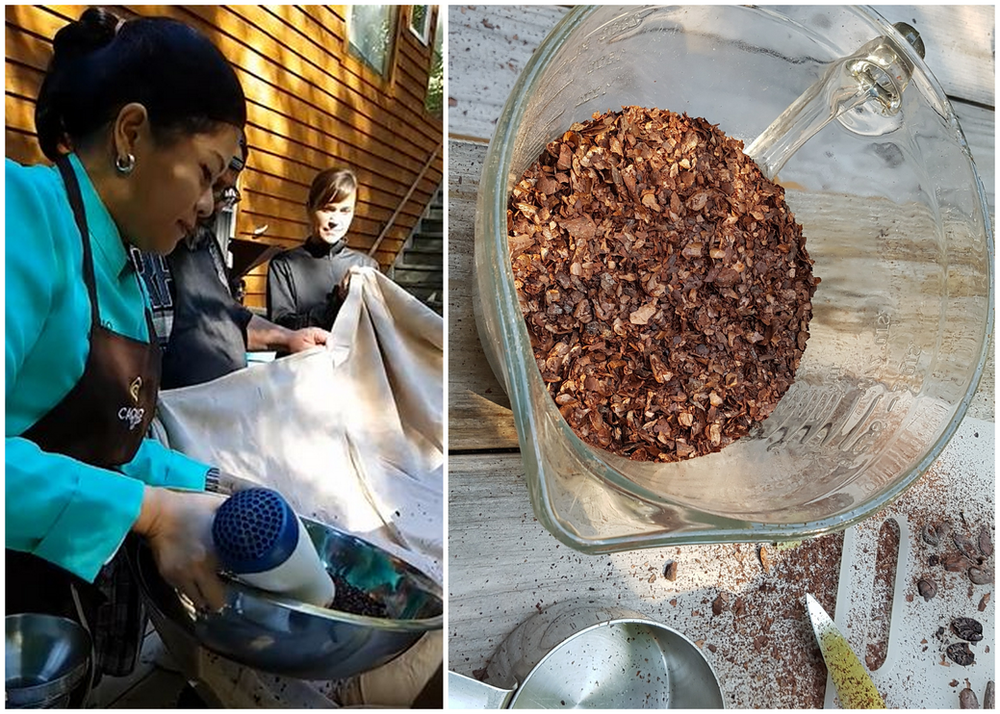 Winnowing using a hair dryer.
n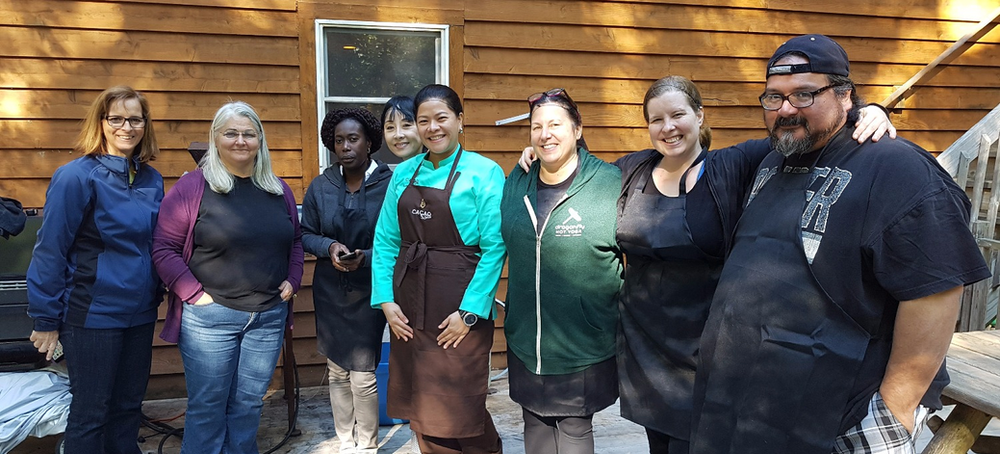 Did you notice that yours truly was the only student who came ALREADY dressed as a chocolate-maker? I live by the saying "dress for the position that you want, not the position that you are in." And Luchie Fantabulous wants to be a fabulous chocolate-maker! 🙂
n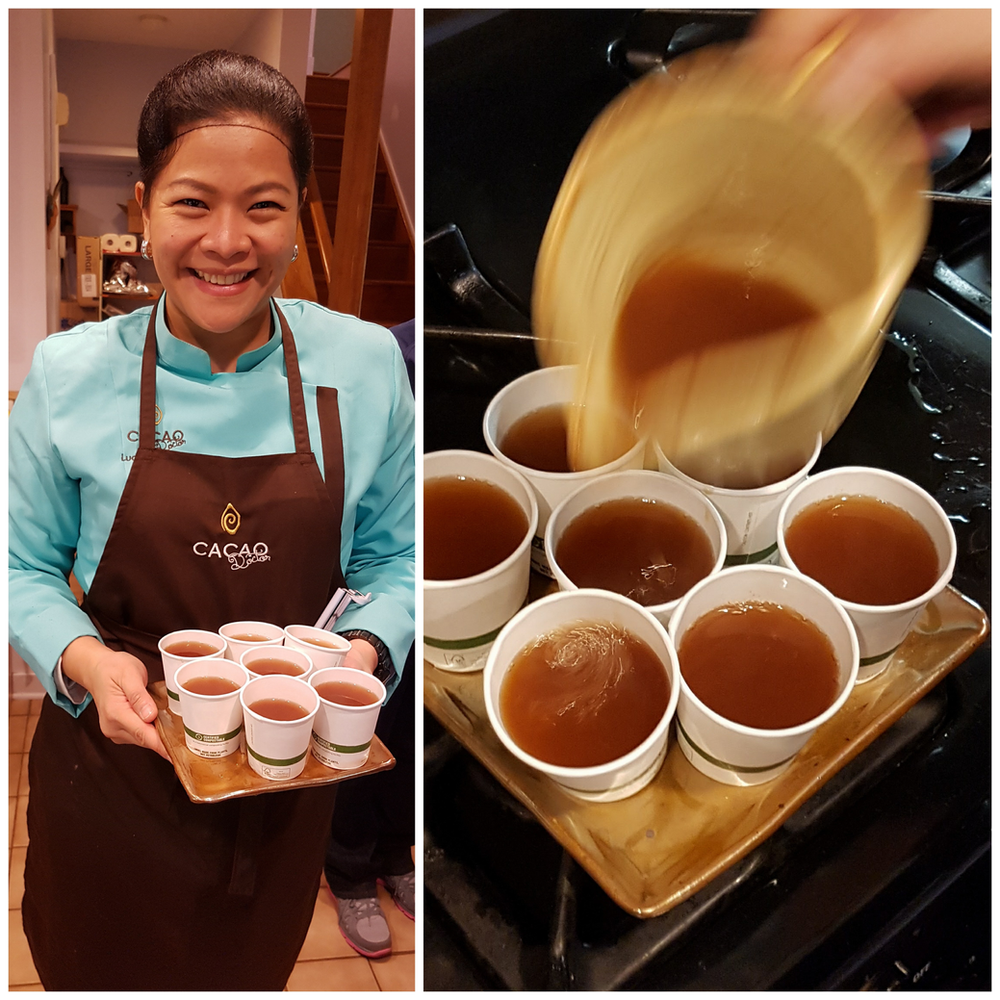 Nothing gets wasted…instead of using the roasted husks for mulching, we seep them into cacao tea. Perfect for the chilly autumn morning.
n
Then finally we ground our cocoa nibs to become cocoa liquor and then made it into chocolate bars.
n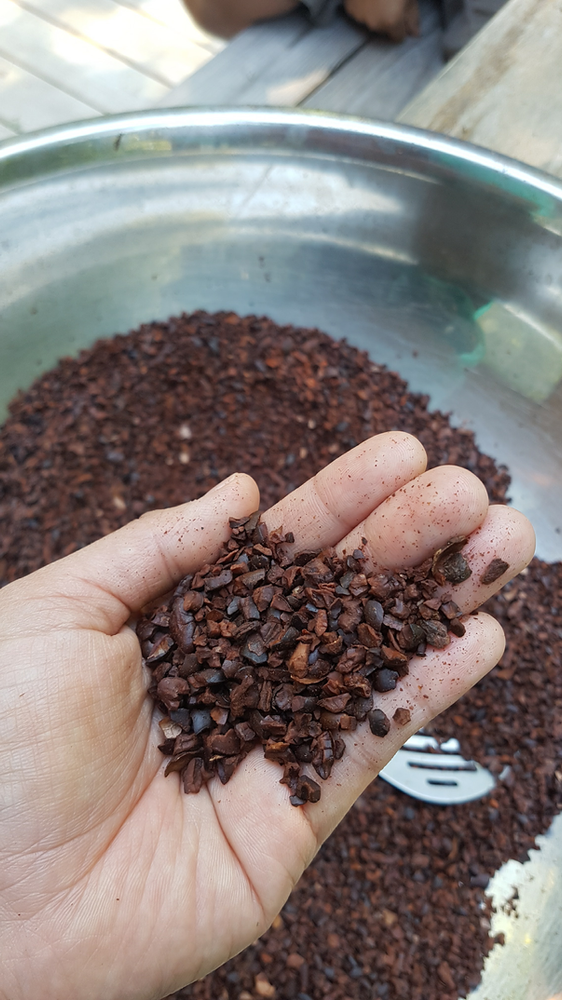 Roasted cacao nibs may be eaten as is, or ready to make as cocoa liquor.
n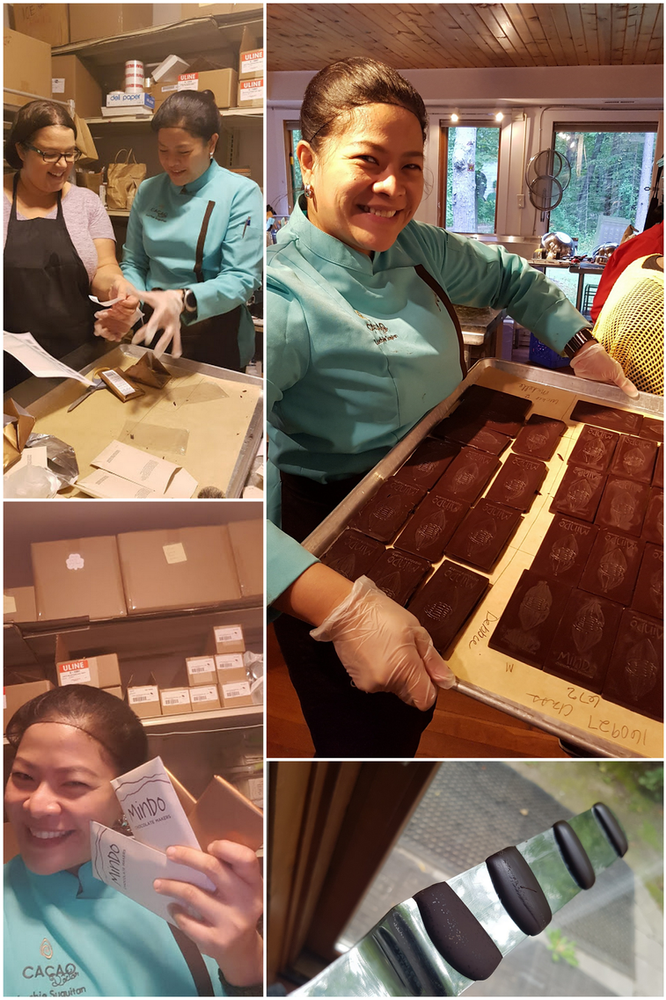 Perfectly tempered chocolate!
n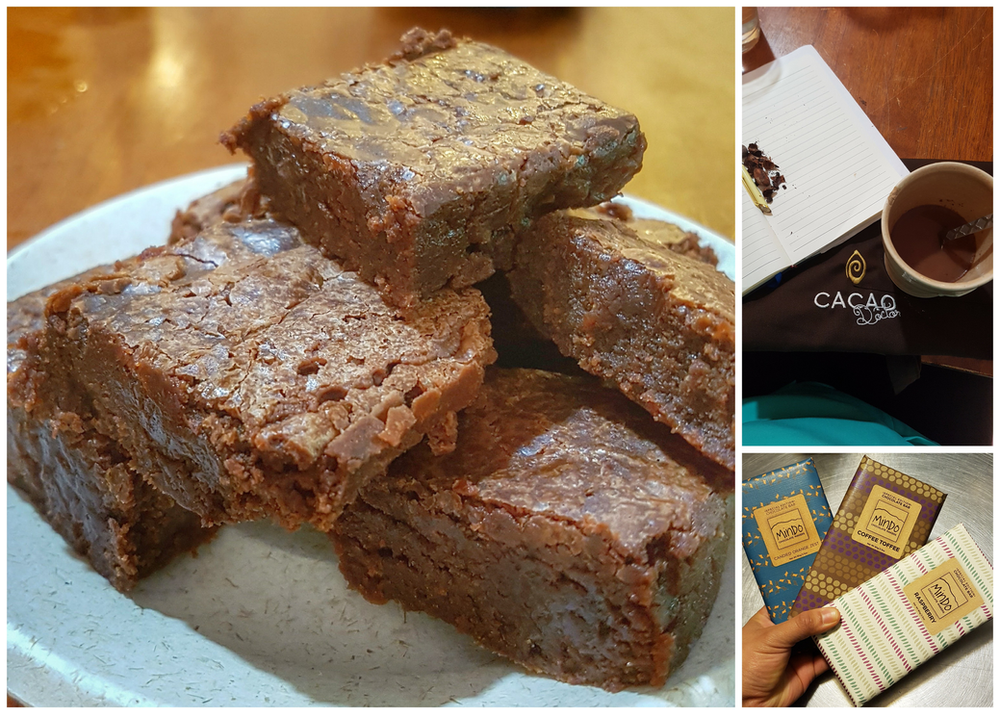 Mindo's famous brownies made of Mindo's melted chocolates. Hot chocolate drink and limited edition chocolate bars.
n
n
n
Where we come from and our experiences should not be our limits. They should be springboards from which our imagination must fly. And as I bite into the chocolate bar that I myself made, from our cacao farm, I'm reminded that Life is NOT like a box of chocolates, you can dictate what you're going to get.
n
n
n
n
n
n
n
n
n
n
n
n
n
n
n