n
I wanna wake up in the city that never sleeps…New York! New York!
n
n
Unlike my Atlanta and San Francisco chocolate escapades, where I had the pleasure of experiencing personalized tours, chocolate tasting, and most importantly a time to discuss chocolates with the chocolate makers, I went to two of the biggest chocolate makers in the city –without having received a confirmed appointment.
n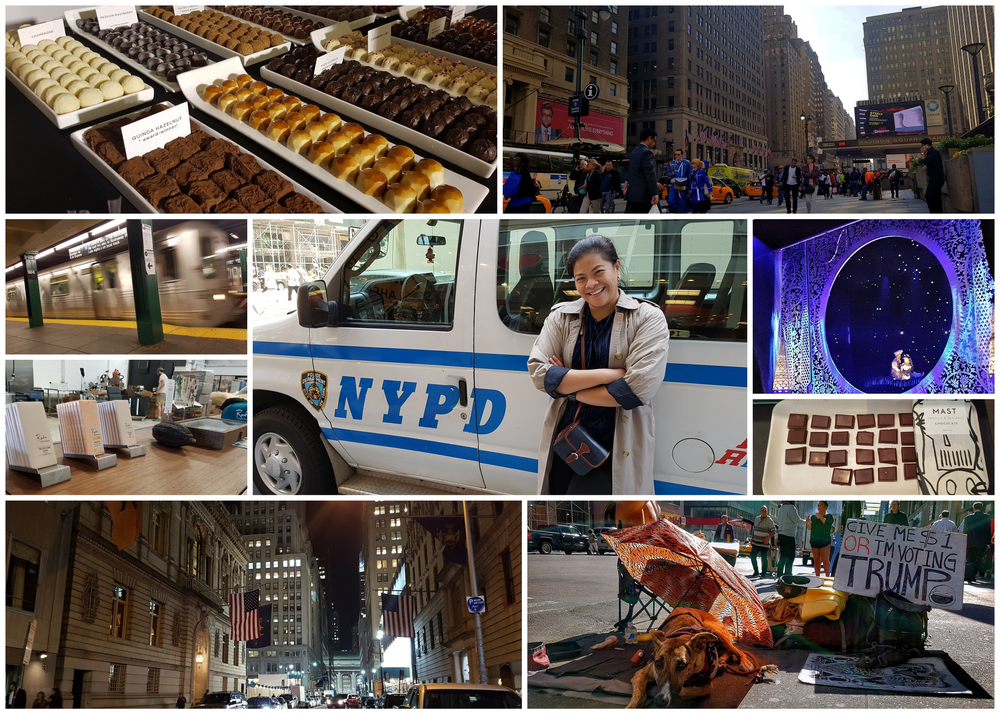 Just some of the pics I took while in NYC. My friend Tristan told me a photo by a NYPD sign is a MUST. And NYPD was no scarce in Manhattan, they were everywhere, so taking one was very easy (pic in the middle, this is one of the many). Another must when in NYC is to watch a show in Broadway, so I watched a show close to my heart, Aladdin (Second from the top right). Always an affinity for Aladdin, because (1) Leah Salonga will always be my Princess Jasmine; and (2) an Arabian theme, my second home for 13 years. The pic on the bottom right was of a homeless guy with his dog who were blackmailing the by passers…We clearly know by now his blackmail didn't work!
---
Raaka Virgin Chocolate
n
Brooklyn, New York
n
www.raakachocolate.com/
n
n
Raaka doesn't roast their beans, hence the "Virgin" in their chocolate labels. They believe that by not roasting the beans, it maintains a higher nutritional value and that it keeps the actual taste profile of the beans – which is influenced by the terroir or genetics of the beans, which is not necessarily always chocolate-y.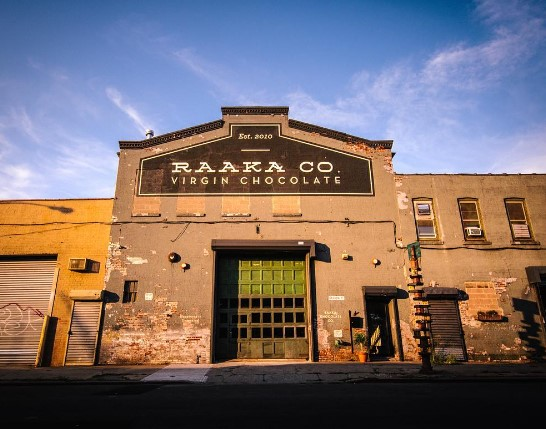 Photo above taken from Raaka's website. I didn't have an appointment when I went to Raaka's factory, they probably were busy preparing for the launch of their limited edition bars. They never responded to my email, however, Ryan Cheney still carved out a bit of his busy time to do a quick tour around their factory. He showed me their machines, explained their process, and answered my questions about their chocolates. Thank you!
n
n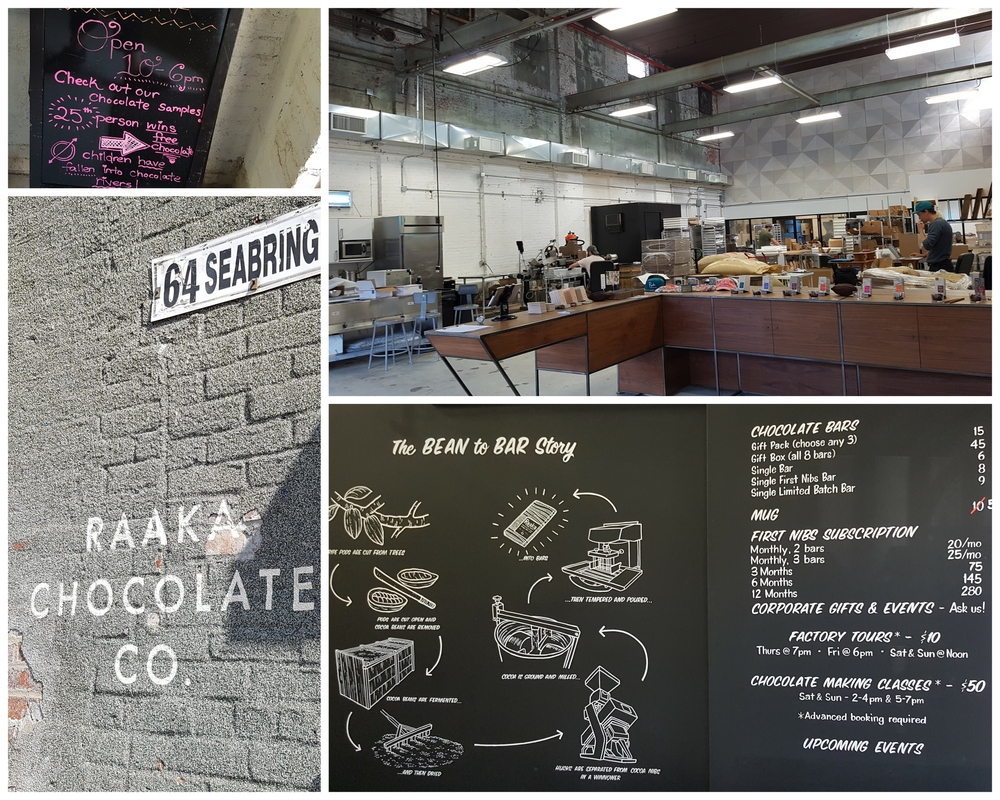 Raaka's massive space in Brooklyn means serious straight-forward, no frills, good chocolate making business.
n
n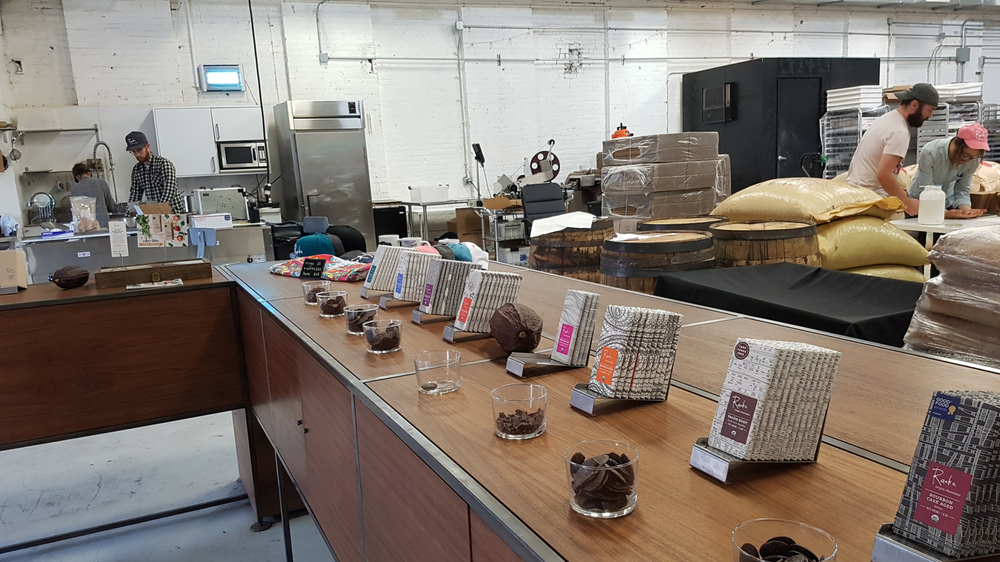 So they're really as they say they are – it's all about the chocolates. No frills just pure good choco passion.
n
Do you notice what these guys in the pic have in common? Beards. No…I don't think growing beards give you super chocolate making skills…Even if it does, I don't think a beard would suit me, so I would go for "practice, practice, practice" to give myself super chocolate making skills!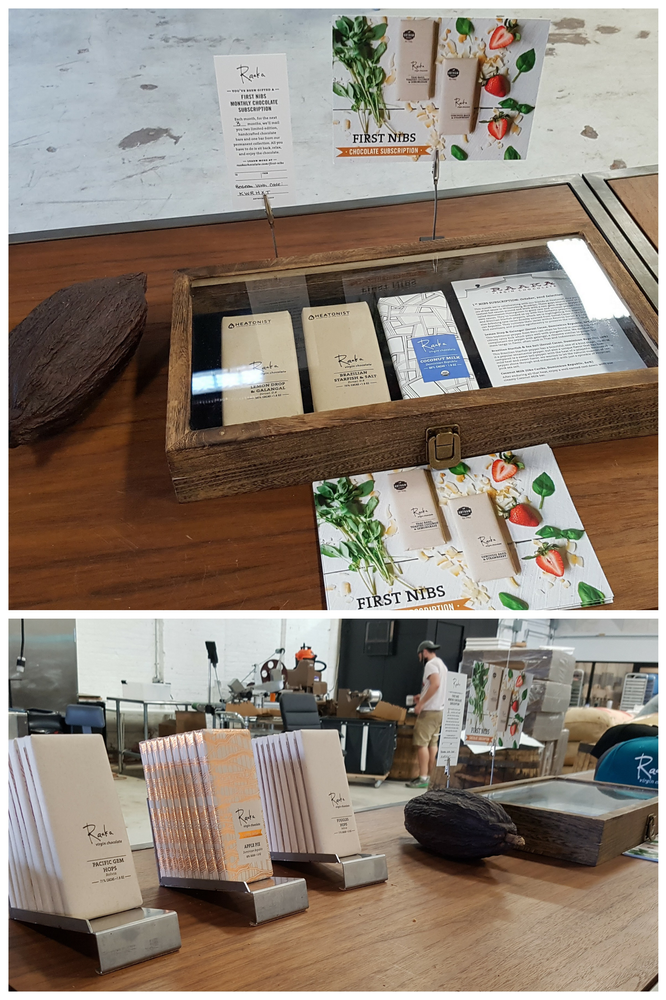 Their monthly First Nibs chocolates are really good…and the flavors are exotically irresistible – Chocolate with curry…. chocolate with tamarind?! My Indian friend just can't believe how good a curry would taste with chocolate, she said she's never tasted anything like it before.
n
---
n
People say that bad publicity is still publicity. So I must admit it was all the scandal I've read about them that brought me to my next stop.
n
n
n
Mast Brothers
n
Brooklyn, New York
n
https://mastbrothers.com/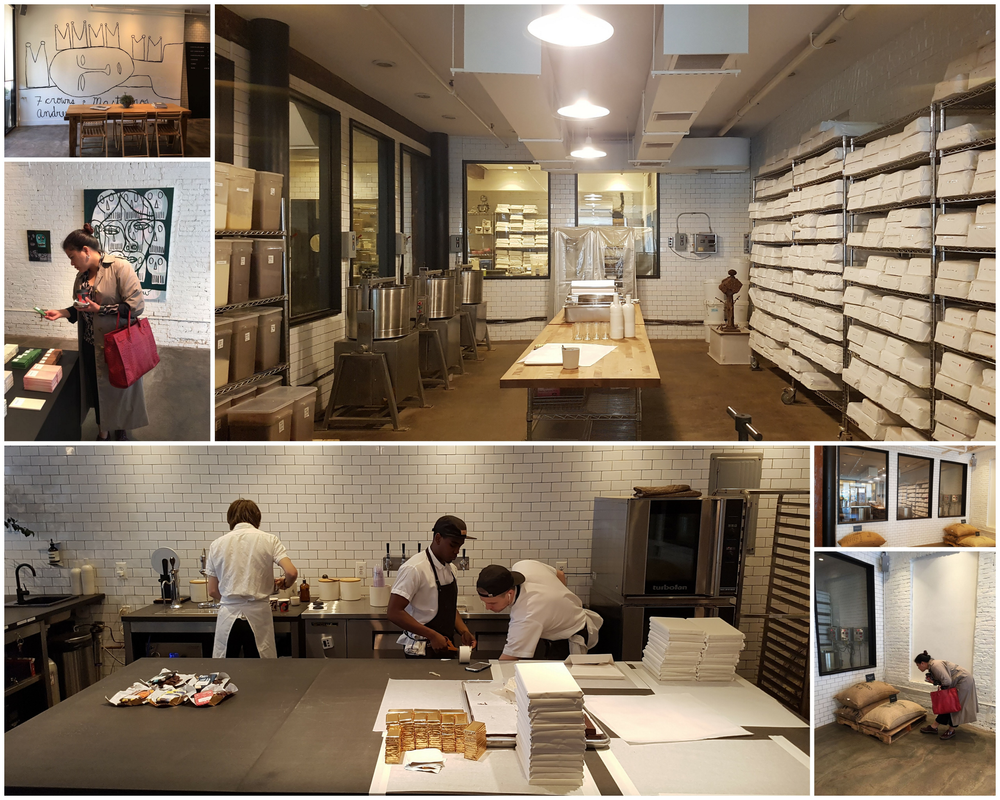 Walking in to their Williamsburg, Brooklyn factory and shop felt like going to an art gallery. It was only the aroma of grinding cocoa wafting through the air that reminded me that I'm visiting a chocolate factory.
n
n
n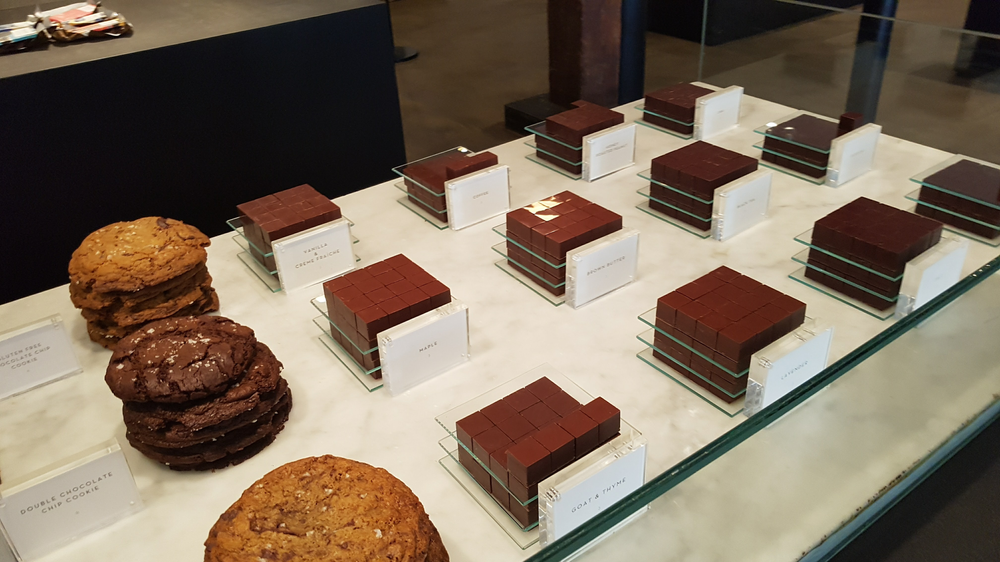 Symmetrically and cleanly arranged truffles in cubes is showcased alongside their round chunky, chewy cookies.
n
n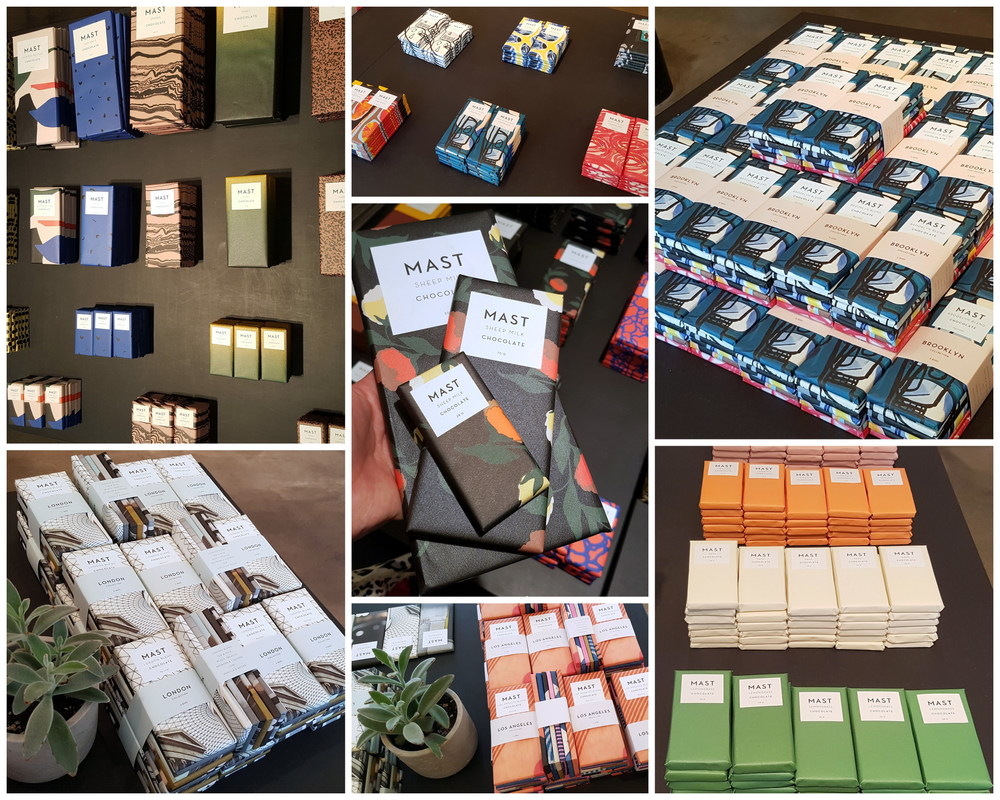 Chocolate bars in beautiful wrappers.
n
n
---
n
The Big Chocolate Show
n
Manhattan, New York
n
http://www.thebigchocolateshow.com
n
n
The Big Chocolate Show at the Big Apple! Special thanks to Alexandra Leaf, the organizer of the event, for arranging a press and trade tickets for me and my colleague at the show. Such an accommodating and friendly woman who even recommended must-to-visit chocolate shops in New York.
n
n
Other than getting to taste a loooooot of chocolates, I get to learn so much from so many people in the industry – from the different links of the cacao value chain! 🙂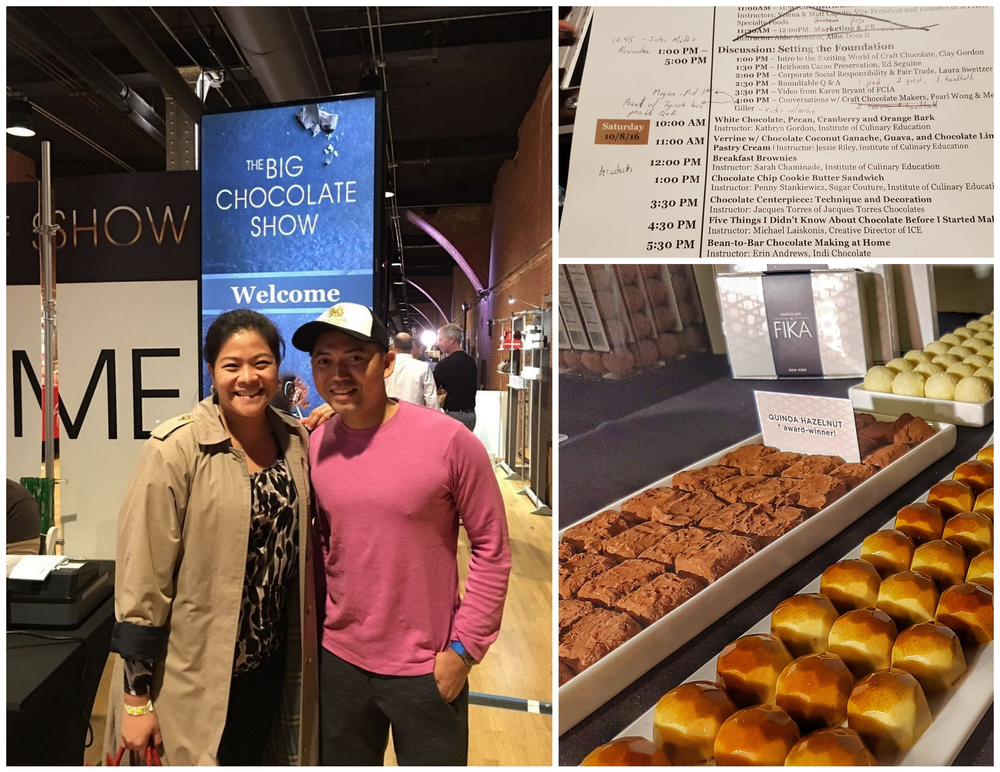 Rog, is a US Immigrant/OFW who had been following OPM for a while now. He was meant to meet OPM Farm Manager Iman in Agusan, but to no avail. When he saw OPM's facebook update, he messaged Iman that he was nearby and arranged to meet me, and so we did! The program for the event and just some of the many chocolates on display and for tasting…yup, there were lots of them!
n
n
I also had the pleasure of meeting and speaking with the Cacao Cocoa & Chocolate Advisors President Ed Seguine, who walked us through the process of engaging one's senses when tasting or consuming chocolates. For someone who has been in the industry for 33 years and so knowledgeable and passionate with his craft, Ed is a very gracious, down to earth and such a wonderful guy to listen to. During my brief conversation with him, we touched on the subject of an initiative where he is very much involved in – The Cacao Heirloom Preservation http://hcpcacao.org/ .
n
What is heirloom cacao? These are cacao trees and beans endowed with a combination of historic, cultural, botanical, geographical, and most importantly flavor value. They are the foundation of the best tasting chocolate. These aren't the hybrid cacaos that is often planted to produce bulk beans. And you know what's interesting about the conversation? Just because you have a fine flavor tasting cacao beans, does not necessarily mean that you tick the criteria of an heirloom cacao. I suppose when you think about the commercial viability of your chocolate product vs. sustainability of the crop and its impact on the environment makes for an interesting consideration.
The close up photos with chocolates on our noses were photos of us engaging our olfactory senses…. Tristan who is now based in NYC (my schoolmate from Elementary days) was with me at the show.
n
n
n
One of the exhibitors in the show is Marou, a fine single origin Vietnam chocolate brand, founded by Vincent and Samuel from France, who I also had the pleasure of listening to, spoke about their chocolate journey at the show.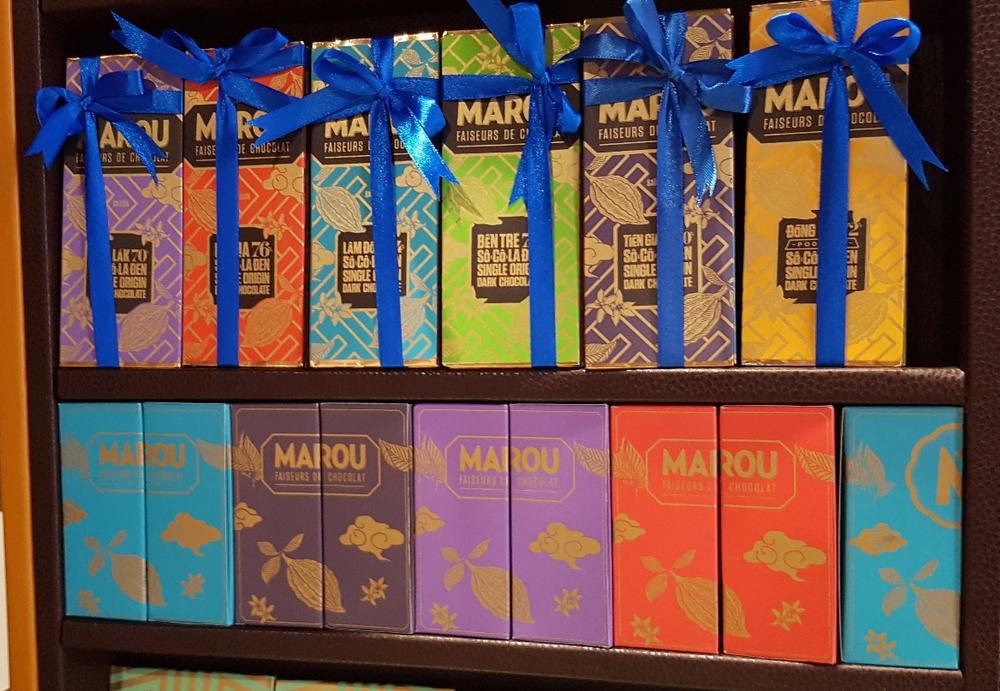 Just this year, Vietnam joined Indonesia as the second Asian nation, recognized by the International Cocoa Organization (ICCO) as a fine flavor cocoa origin (what does this mean? It should be noted that the difference between fine or flavor cocoa and bulk cocoa is in the flavor rather than in the other quality factors. Fine flavors include fruit (fresh and browned, mature fruits), floral, herbal, and wood notes, nut and caramelic notes as well as rich and balanced chocolate ases. Source: https://www.icco.org/about-cocoa/fine-or-flavour-cocoa.html ). The development of cocoa as a crop in Vietnam does not date back very long ago, it started only in the early 1990s! What have they been doing right, what do we have in common with them and what can OPM learn from them? A LOT. Watch this space as we update you on the post-harvest process that we are working hard on perfecting and implementing.
n
n
n
I also want to share with you the brief video I took from one of the programs, where the definition of "Quality" on the context of cacao bean is being defined. I like to connect this with what we do in OPM.
https://www.youtube.com/watch?v=yAMttqTMBSw
As I listen to Ed, I am even more inspired to be more ambitious and yearn to set an even higher goals on what OPM Farmers can do and produce. We teach the value of excellence to OPM farmers. Be it the best practice in holing, pruning, application of inputs, harvest techniques and post-harvest processes, as well as excellence through moral values – honesty, transparency and trust, amongst many others
n
n
Let me now end this entry with this picture.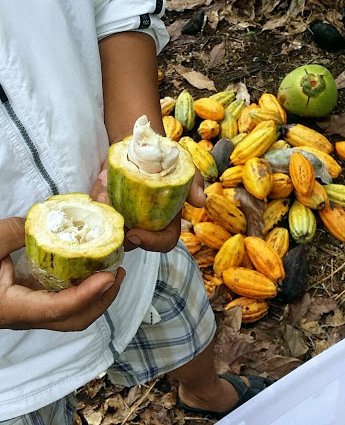 (This cacao fruit was harvested last month in one of the OPM Farms)
n
n
n
n
What do you see in this picture?
n
n
I see possibilities. Great, sweet, chocolate-y possibilities.
n
n
n
n